2021 Youth Basketball Tournaments
SOUTHEAST SHOWDOWN FRANKLIN, TN JUNE 19-20
7TH ANNUAL…TOP TEAMS, MEDIA, AWARDS ALL UNDER 1 ROOF
Teams from AL, KY, TN, MO, AR, GA, IL, and more Confirmed
The Southeast Showdown features teams from every level.  Top national teams, local club teams, & regional powerhouses.  Organized with great exposure & platform for all teams.
The event is hosted at the TOA Athletic Center in Franklin, TN.
Exposure From Media Including SLAM, BallisLife, MSHTV, Coast2Coast Preps, Naismith Youth All American, Top 25 Scouts, T3Tv, 24/7, Prep Hoops, NCAA Certified Premier Bball Services & More! Gold & Silver divisions ensure competitive play for all teams regardless of Skill Level!
*Covid-19 Safety protocols in place
(No Refunds Within 7 days of Any Tournament)
Register Now
REVISED FORMAT… 1 DAY  ROUND ROBIN TOURNAMENT
7th Annual Battle of the Basketball Titans
Some of the top regional teams will be in attendance…Past attendees include Blue Chips, NYBA Elite, Semo Blazers, MBA, TJ Ford, War Eagles, D1 STL, We R 1, Clarksville Crossovers, W Ky Wildcats, Vette City, Fast Five, WACG, 94 Feet, We Get Buckets, Team Tae, & More!
Divisions for All playing Levels local, club, national, school ball, etc..
@global_grassroots will be in the Building!
Other media outlets include @coast2coastpreps @nationalyouthallamerican @thebluechipreport @topspotbasketballcircuit @nextuprecruits @the_megcam @ryangivens_ @prephoopsnext
COVID Protocols, Nice facilities, Team awards, organized, National Exposure!!
SUNDAY DEC. 13
Lighthouse Christian School (5100 Blue Hole Rd, Antioch, TN 37013)
8:20am- Team Nash vs. Team Tae (8th Grade)
9am- KY Breakdown vs. Team Nash (8th Grade)
9:40am- Team Tae vs. KY Breakdown (8th Grade)
10:20am- KY Breakdown vs. NYBA Elite (7th Grade)
11am- NYBA Elite vs. MBA (7th Grade)
11:40am- MBA vs. KY Breakdown (7th Grade)
12:20pm- McCabe Grizzlies vs. NYBA Elite 2029 (4th grade)
1pm- 901 Bulls vs. McCabe Grizzlies (4th grade)
1:35- NYBA Elite 2029 vs. 901 Bulls (4th grade)
2:10- MBA vs. NYBA 2030 (2/3rd Grade)
2:45- MBA vs. NYBA 2031 (2/3rd Grade)
3:20- MCE vs. NYBA Elite 2027
3:55- NYBA Elite 2028 vs. MCE
4:30- NYBA Elite 2027 vs. NYBA Elite 2028
National Exposure Events
These events are for teams looking to enter the national scene of youth basketball.  Top Teams and players from all over the Nation descend on middle Tennessee for these high exposure events.  D1 & D2 divisions for each tournament.

Under Armour Southeast Showdown       June 21-23       Nashville, TN
Under Armour has a Huge New Office in Middle TN & is looking to bring the Nation's Top Talent to the Area.  This was formerly known as the Nike Southeast Showdown.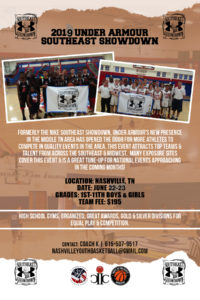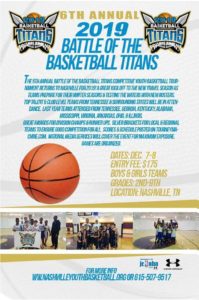 Battle of the Basketball Titans        December  2019      Nashville, TN
A Great kick off to the New Travel Season as teams prepare for their winter seasons & testing the waters with new rosters.
*Media & Exposure for All of these events Covered by National Youth Basketball Association ELITE, Coast 2 Coast Preps, Naismith Youth All American Report, Middle School Elite, & Other Major Sources.
Register Now
Grassroots Events
These events are for teams and players of all skill level.  Is a Great Warm-up for bigger events and to get a different variety of competition.  A Fun, exciting basketball environment.
TBA
Register Now